What to Pack for a Safari with Kids
When you think of what to pack for a safari the idea of tan "jungle trekking" outfits undoubtedly comes to mind. The khaki pocket pants, hiking shoes and safari hat a'la the man in the yellow hat, am I right? That's fine but I'm not one to rush out and get an outfit that I'll never wear again plus something that looks slightly ridiculous. Chances are you've got what you need in your wardrobe.
If you're preparing for a safari with kids and wondering what to pack here are our suggestions.
Make sure to ask with the safari company what they suggest, because depending on where you're going, what you should wear can vary. You most likely will have weight and luggage restrictions.  We spent 3 days on safari and 5 days at the beach, I packed a carry on suitcase and one regular size school backpack for two of us – really that's it.
The small air taxis used to get to more remote areas like the Masai Mara have a 15kg limit on your bag and ideally you are using a duffel bag. These are little airplanes so the weight limit really is important to follow.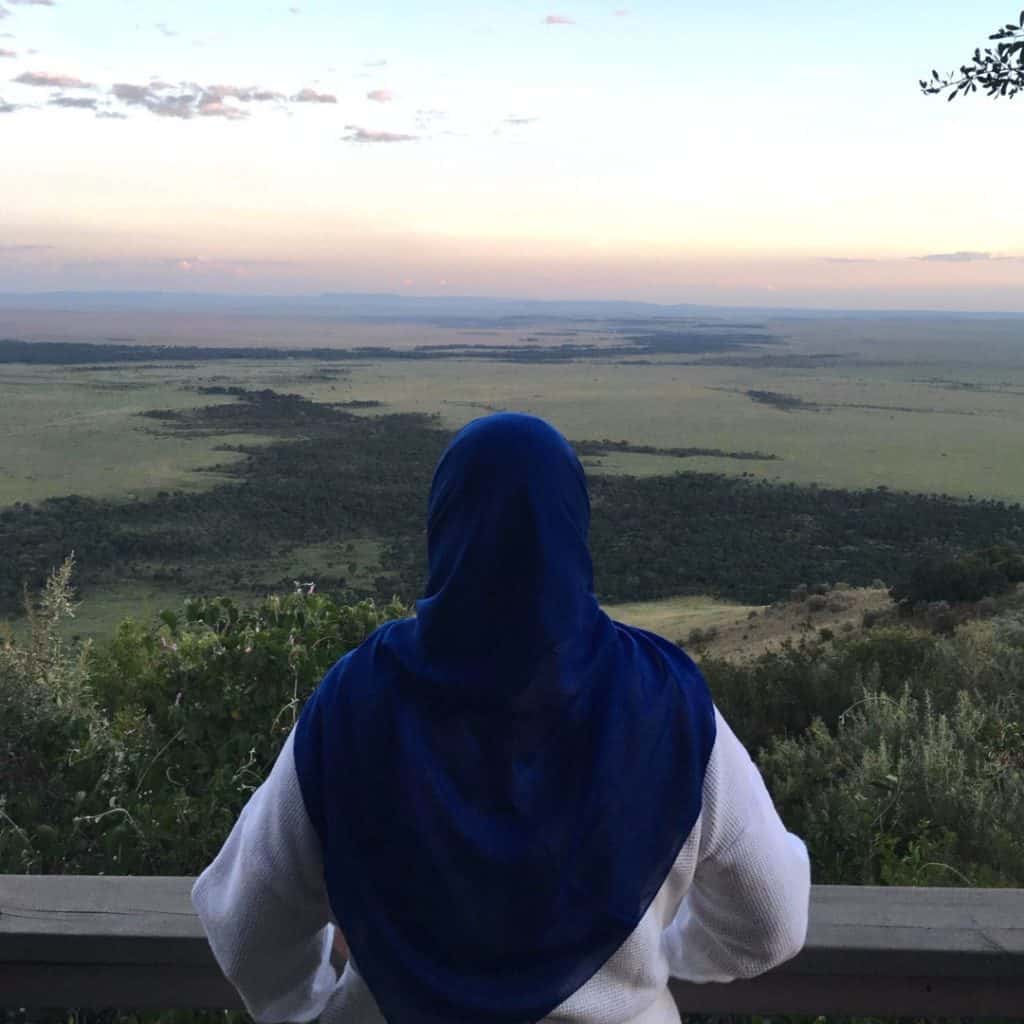 Considering we had such little space and were going to two very different areas things were a little tricky. Here's our safari packing list – it's really the same whether you're an adult or child.
Things I Packed
Loose, long pants (2 pair)
Light long sleeve shirts (3)
t-shirts (3)
pajamas; I'd recommend long sleeve cotton shirt and pants
an outfit for relaxing in your tent or at the lodge
sunscreen + bug spray
sunglasses
a light jacket or sweatshirt for night
a raincoat
flip flops
walking shoes or hiking boots
socks and underwear
over the counter medicines (see below)
your passport, proof of yellow fever vaccine, and visa if needed
Things I Didn't Pack
a lot of make up; I just took foundation and mascara
a blow dryer/curling iron etc.
any dressy clothes
heels – trust me watching women on safari in heels is ridiculous
tank tops/shorts
You will want to consider the time of year that you're visiting and how familiar you are with the hot African sun. Kenya was more humid than Morocco but temperature wise it wasn't so different. I think for us it was a little easier to handle the temperatures than others who aren't used to the sun.
Just like Morocco when the sun is up and shining it's blazing hot, but when the sun retreats it chills off very quickly. Being prepared for cooler temperatures is a must or you will suffer. Wearing a hat, sunscreen, staying in the shade as much as possible and drinking lots of water will help. Don't forget your rain jacket as storms roll in quite quickly especially in the afternoons.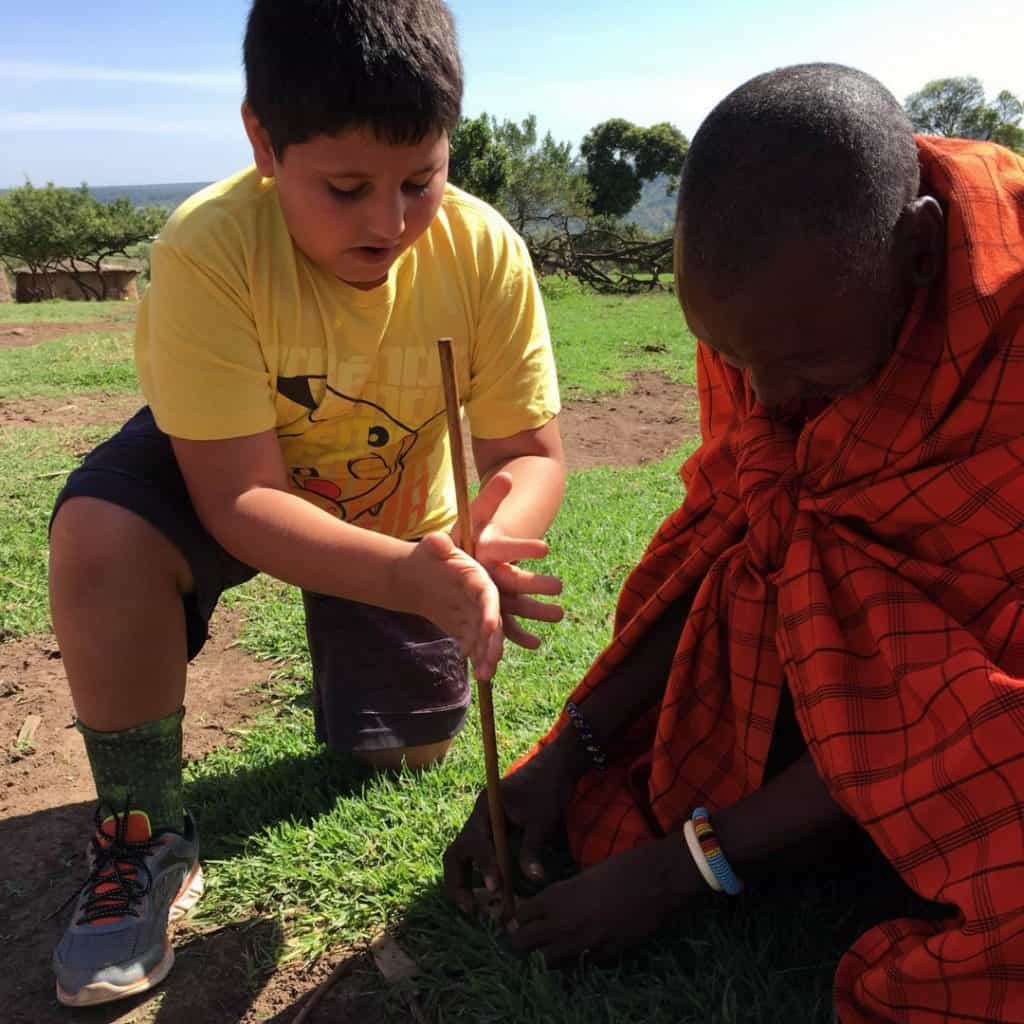 When you are out in the safari vehicles covering your skin is really important. The sun can do damage quickly. There also can be a lot of bugs. It may seem counterintuitive to wear more clothing in the sun but loose, light clothes will keep you more comfortable than having exposed skin.
Depending on where the safari is you also will have the issue of mosquitos (or not). In the Masai Mara this was not an issue as our camp was at quite high elevation. We still used bug spray and took anti-malaria medication but we were fine.
Given our very limited luggage space we each had two pairs of shoes. One closed toe tennis shoe and a pair of flip flops that could get wet and rinsed off for everything else. If we were visiting in the rainy season rain shoes or boots would have been needed. We didn't need any other shoes – we were perfectly fine.
Finally your stash of over the counter medications. I took my usual medicine bag plus I also added these items;
anti malaria tablets (will likely need a prescription)
tweezers and nail clippers
pain patches (I wasn't sure how my back would hold up bumping around in the Jeep)
melatonin to help sleep/jet lag
I don't pack all of everything, instead I put in just what we would need to the bag. This helps save a lot of space. I really fit everything of mine into a carry-on bag and K's into his school backpack and we were fine. Remember you CAN wear something more than once and you can wash things out when needed. Overpacking will lead to a lot of headaches so keep it as simple as possible. Checking with the company also can help you cut down on luggage. Angama provided us with a lot of things such as toiletries, sandals, and snacks!
While we were staying in a single camp there are also overland safaris that you might be interested in. This requires an additional bit of planning and packing. Don't worry though my friends at Getting Stamped have done this a few times and have some great advice on packing for an overland safari.

PS – Don't forget your camera!