The Giant Guide to All Things Istanbul!
The first time I went to Turkey I was 16 years old and left hoping and praying I'd never have to enter the country again. A young, bleach blonde girl in the coastal (and heavily tourist) city of Kusadasi was like a magnet for pushy salesmen and overly interested teenage boys. I know that's a cliche but it was my experience, and it left a bad taste in my mouth. As far as I was concerned I'd been to Turkey and had no desire to go back.
Half of my life passed and shortly after my 31st birthday I was going to be visiting Istanbul. Those early memories of Turkey had faded and I was ready to experience what I had been told was a magical city. But somewhere in the back of my mouth that bad taste and bad memory lingered. I held back my fear and silently hoped the same scenarios wouldn't play out again. It only took a few hours for me to understand what was so special about this place.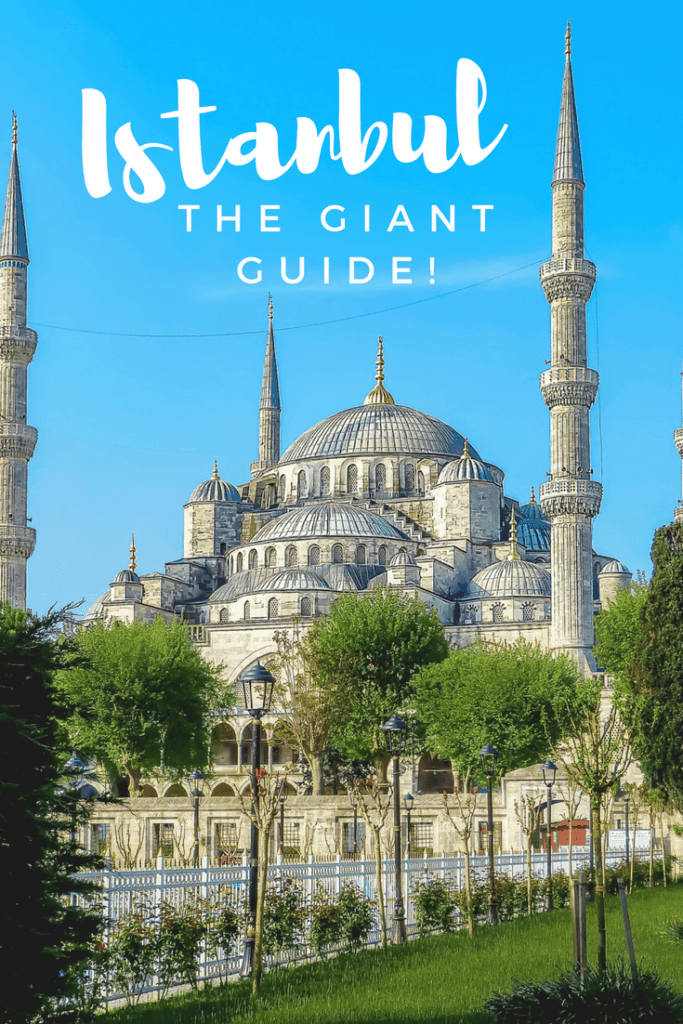 You'll find it in Istanbul; streets packed with people, the blowing of horns on the Bosporous, boats, trains, ferries, honking cars all awash with a sepia tone that sweeps across the skyline. You'll remember that color long after you leave. It fits. Istanbul should always be sepia because it's the only tone that encapsulates the history bursting out the seams of the city.
There's no shortage of things to do and see. I've now visited several times and I still feel like I could easily go back and spend another month, still failing to experience everything.
The first time I went I was hesitant to tell my mother, the same way a teenager might hold back their first boyfriend or where they were the night before. I knew she would worry, the only thing the news shared about Istanbul was the bad news. But in a city of over 10 million people, there's bound to be some bad. It didn't frighten me. It did make me aware but it was easy to immediately see there was a police force patrolling and life was going on. I'm a big believer that what is meant to happen will happen and there's no point in restricting our lives out of fear. The truth is there's no better time to visit Istanbul than right now. Yes, right this very moment, no matter when you're reading this.
What will you discover?
When you go there's a few things that you can not miss.
The food.
Small restaurants at every corner full of every kind of food imaginable. Tiny plates of mezze showcasing the bounty that is Turkish cuisine – from every corner of the country – complimented by shot glasses of raki or thick coffee that leaves a reminder of the richness of this culture. Istanbul's street food is literally everywhere you look. Istanbul is unlike anywhere else.
It really is.
The people.
I never encountered a single person in Turkey that was hostile or even rude. Everyone was incredibly nice, welcoming and friendly. To me the types of interactions I have completely change how I view a place so this is a big deal. Luckily Istanbul is great!
The history.
This city is so old and has such a rich and diverse history. There are layers upon layers of it and no matter where you turn you're met with a different facet of that experience. It's peppered into everything about the place and makes it truly unique.
If you're sold on a visit then you'll want to read the rest of this massive post to discover what I loved and how to plan your own Istanbul vacation!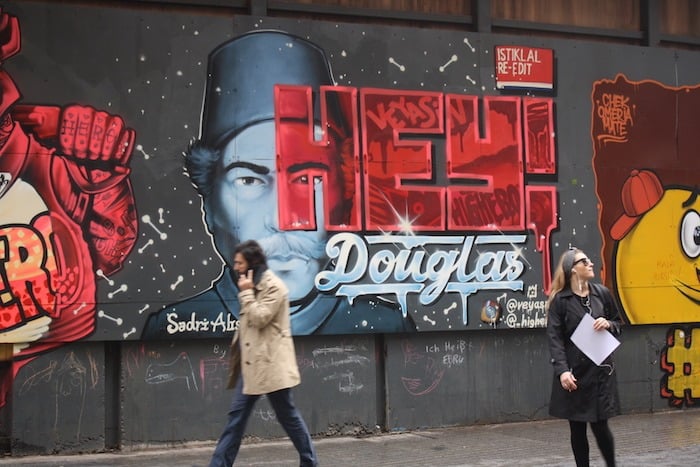 Top Istanbul Questions and Answers
Do I need a visa to enter Turkey?
This depends on your nationality. For me, as an American I do need a visa. It's very simple to apply online ahead of your trip for an e-visa. The price is $15 and after you fill out the questionnaire and pay your fee you are given a printable receipt. Just present this at immigration control and continue. If you're unsure whether your country requires a visa or not you can check on the government's tourism ministry website. You also can apply for a visa on arrival but it will take a bit more time.
How do I get from the airport to the city center?
There are two main airports in Istanbul; Ataturk and Sabiha. They are located in different areas so your options are different for each. Personally I always try to book accommodations that includes an airport transfer just to make things easier. But if you haven't done this you still have options. Make sure you have the full address of where you are staying and a phone number if possible.
There are plenty of taxis outside of each airport. From Ataturk airport a taxi to most of the common tourist neighborhoods (Sultanahmet, Taksim etc) will cost under 75 lira. From Sabiha airport a taxi will be nearly double that price and take twice as long. It may not be your best option.
A second option is the shuttle bus known as the Havabus. There are departures every half hour from 4am to 1am from both airports giving you plenty of options. There is a set price depending on the neighborhood you will end up in. You can find a full timetable and specifics about where the bus stops on the Havabus website.
A third option is booking a private shuttle. I have also done this when other options aren't available. I find that sometimes this is the easiest option when I'm traveling with my kids as I don't need to worry about holding up anyone else. We can take our time and get settled. I often use Blacklane when we're traveling. It's a little more expensive but I have found the drivers are ALWAYS there, the vehicles are in great condition and everything goes smoothly.
What money do they use in Turkey?
The currency in Turkey is the Turkish lira. In most cases you'll want to have cash on hand. While cards are widely accept in larger establishments we found that cash still reigns as the king here. You'll want small bills and coins whenever possible. You may find that when making large purchases (say a Turkish carpet?) the vendor may be willing to accept dollars or euros but in most cases lira are the only currency accepted.
Is Istanbul safe?
I always find the safety question a bit puzzling. There is nowhere in the world that is truly safe. Turkey has faced a lot of issues in recent years and continues to with conflict in neighboring Syria. That being said I never once felt unsafe. There is a police presence and active security measures. Crime does happen; Istanbul is a city of over 15 million people. Expect pickpocketing, hustling and other crime as you would find in cities of this size.
Is Istanbul safe for solo female travelers?
When I went to Istanbul I went alone and traveled throughout the city alone. I never once felt unsafe, faced any unwanted advances, or had anything negative happen. Everything was straightforward and easy to manage. My experience may not be yours but as a woman traveling alone I felt perfectly safe.
What language do they speak in Istanbul?
The language of Turkey is Turkish. They do not speak Arabic as some people think. You may find many people that DO speak some or fluent Arabic. You also may discover that due to the large numbers of refugees there are a lot more Syrians who speak Arabic. Many Turks, especially younger Turks speak English semi to completely fluently. As with any cosmopolitan city there are people from all over the world here so no matter what your language you have a good chance of finding someone who can communicate with you.
How easy is it to get to other parts of Turkey from Istanbul?
Easy! You can fly to a lot of other areas of Turkey on the numerous domestic flights. There are countless day trips that depart from Istanbul regularly and you can also use the rail system to get around the country.
Where should I stay in Istanbul?
That's a tough one! Keep reading to discover some of Istanbul's neighborhoods you may want to consider to stay in.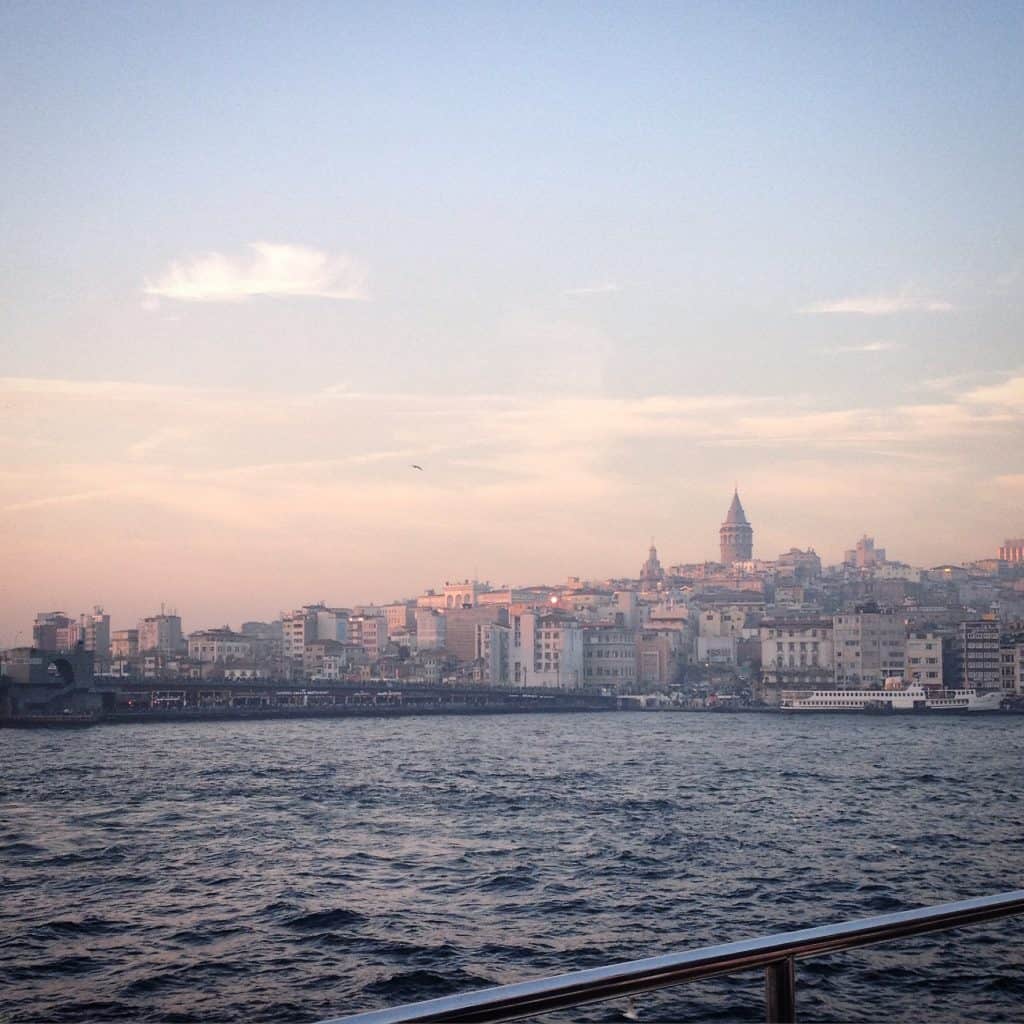 Istanbul Neighborhoods
Sultanahmet
In every city there is a certain area known as the "tourist center," and in Istanbul that's Sultanahmet. While you won't get a feel for what the city really is if you only stay here, you can't skip over it completely when you visit.
What to Do in Sultanahmet
The Blue Mosque
The blue mosque was built in the early 1600's and is still used as a mosque today though is open to Muslims and non-Muslims. There is no entrance fee but non-Muslims are not allowed to enter during prayer times. Please also take care to dress appropriately. Men should wear longer shorts or pants if possible and shirts with sleeves. Women should wear longer skirts or pants as well as a scarf to cover their hair (available at the mosque for no charge). Even if you don't go inside the mosque the exterior and interior courtyard are beautiful. At night it's illuminated as well giving it a completely different feel.
The Grand Bazaar
I have read and heard so many negative things about the grand bazaar and truthfully shopping was nowhere on my radar when we were in Istanbul. But, all things being equal I went to see what it was all about. I can see how people very easily get overwhelmed and frustrated when they visit. There are lots of intersecting roads full of shops of all varieties of souvenirs and things for sale. There's also lots of pushy salesmen. But, I'm used to this and really didn't find it as bad as other people have said. Best advice? Go later at night, before they begin to close as there are fewer people to deal with and you'll be better able to just walk and look.
The Hagia Sophia
If you decide there's only one tourist site you want to see in Istanbul make it this. We were a little put off by the high admission price (around $13 per person) but in the end were glad we did go. It's truly breath taking. There was some restoration work happening, meaning there was a large scaffold in the middle of the building. I am sure when it is removed it is even more beautiful. This is no longer an operating religious building, it's a museum. Seeing the historical progression of the building is worth paying attention to. Get your tickets ahead of time if possible or go later in the afternoon for smaller crowds – most tour groups go in the morning.
The Basilica Cistern
Across the street from the Hagia Sophia is the Basilica Cistern. There are actually hundreds of these under Istanbul but this is the largest and open to the public. It was constructed in the 6th century and the cistern could hold up to 100,000 tons of water. Just the bottom of the cistern holds water now and it's crisscrossed with walkways. To be honest I was underwhelmed and a little creeped out. I can't put my finger on exactly what made me uncomfortable but it certainly was there. It's interesting to see if you've got some extra time and cash but don't put it on your must do.
Topkapi Palace
This palace dates from the mid-15th century and marks when the city returned to Muslim control after being the capital of the Byzantine Empire. The palace moved in and out of prominence. After the fall of the Ottoman Empire in 1923 it was turned into a museum. White it is expansive with hundreds of rooms not all of the building is accessible to the palace; but what you can see is quite impressive.
Where to Eat in Sultanahmet
Eating in this neighborhood is not easy. There are A LOT of touristy restaurants and you'll be able to tell by looking at the clients and the prices on the menus. Truthfully you may want to get out of the neighborhood completely to find authentic and delicious Turkish food BUT there were two places that we went and did enjoy.
Tarihi Halk Koftecisi is a family run restaurant on the main street of Sultanahmet. They make kefta (surprise surprise) with salads and a few other options. It's very simple but very very good.
Cafe Mesale. MarocBaba and I found this one night after walking and walking trying to find something really great. I don't know if I would say it was the best meal I've ever had but it was good. There were mostly other Turkish families around so it seemed to be a good option. Coupled with live music and a dervish performing during the evening it made for a fun night. Get a seat near the front if you can.
Where to Stay in Sultanahmet
We were very fortunate to have stayed in a lovely small hotel in the heart of Sultanahmet. The World Heritage Hotel is small but what it lacks in size it makes up for in hospitality. There was no request too big and the staff was always exceptionally helpful. The breakfast is truly wonderful with things like homemade bourek and loads of other options. They offered complimentary wifi and you could have anything you wanted from the minibar (non-alcoholic drinks) for free. In the downstairs reception tea, coffee, and homemade baked treats were always available. It was much more like being a guest in someone's home than at a hotel.
Tour Suggestions in Sultanahmet
Istanbul Tourist Pass and Airport Transfer
Want to see all the highlights of Istanbul plus have your hotel transfer taken care of? For the traveler that wants convenience this is the way to go. Choose from a 3 day or 7 day pass with skip the line access, hop-on-hop off bus passes and a lot more![/vc_column_text][vc_btn title="Check Rates and Buy" color="danger" link="url:http%3A%2F%2Fshrsl.com%2F12zio||target:%20_blank|rel:nofollow"]
Small Group Full Day Tour
If you want to hit all the highlights of Sultanahmet in one day with the help of a guide than this is a great tour to consider. Visit the Hagia Sophia, Blue Mosque, Topkapi Palace, Bascilica Cistern, Grand Bazaar AND have a 3-course Turkish meal![/vc_column_text][vc_btn title="Check Rates and Buy" color="danger" link="url:http%3A%2F%2Fshrsl.com%2F12zer||target:%20_blank|rel:nofollow"Whirling Dervish Show
One of the most iconic things to see in Istanbul are the whirling dervishes. Secure tickets ahead of time for the performance at the Hodjapasha Dance Theater with a live orchestra. An on-site bar with drinks and snacks is also available for before and after the show.[/vc_column_text][vc_btn title="Check Rates and Buy" color="danger" link="url:http%3A%2F%2Fshrsl.com%2F12ziz||target:%20_blank|rel:nofollow"]
Rustem Pacha Mosque
Hidden in the spice market, near the best konnafa in Istanbul is a small, slightly hidden mosque. Locals know where it is and the adventurous tourist will seek it out. Rustem Pacha is not as famous as the Blue Mosque or Hagia Sophia but what it lacks in stature it makes up for in style. From the moment we walked in I was in love. On the first visit I just saw the outside, the second time I went in.
What makes this mosque different? Visitors will immediately notice the blue iznik tiles everywhere. Rustem Pacha was built in the mid-1500's for Rustem Pacha, the husband of one of Suleiman the Magnficients daughters. There are over 80 different tile patterns and styles found in the mosque – you could spend all day just searching out the different patterns!
Inside the visitors door is a huge arch covered in tiles. The bright red rug contrasts with the blue. A mixture of warm and cold tones that somehow just works.
Iznik tile is one of the great artistic achievements and mysteries of the Ottoman Empire. They date to the 15th and 16th century but as the empire collapsed so did the knowledge and process of making them. While the tiles survived the skills to make them were lost until the end of the 20th century when artisans, scientists and researchers joined forces to bring the art back to life.
The dropped lighting once used candles to illuminate the mosque but modern lighting is now standard. The tile dome means the mosque also has great acoustics and sound easily fills the space.
It's a little difficult to find the mosque however if you get to the general area and begin asking around most people should be able to point you in the right direction. Head to the Fatih neighborhood, near the spice souk and start asking!
Kadikoy
Whenever someone mentions the name of a city or country there's a good chance I say, "oh I have a friend there!" It's a byproduct of what I do, and it's been one of the best outcomes of being a part of the travel world. In Istanbul it's no different. I loved having the chance to spend a day with my friend Katie exploring her neighborhood in Kadikoy.
Where is Kadikoy you ask?
Well, it is the hip and cool side of Istanbul. Ok maybe I'm exaggerating but after spending some time here I could see myself calling it home one day. It's a different vibe from other parts of Istanbul (like the tourist center). There's no shortage of shopping, eating, and historical things to see but it is more like a neighborhood than a place to check off your "must see" list. Precisely why I think it's a must see!
You can certainly book a stay somewhere on this side of the city but I was staying at the W Istanbul in the Besiktas neighborhood. Getting to Kadikoy was simple – just hop on the ferries that run the Bosporous all day long. Not only is it is easy, it's affordable. Grab an Istanbul Card from any newspaper kiosk and add some money to it. The ferry is under 3 lira each way. There's very regular departures so you won't have to wait long. Swipe your card, wait for the ferry to dock and jump on. The ride takes about a half hour but it's comfortable – you can even get snacks. But I didn't need snacks because the best breakfast ever was waiting for me on the other side — and Katie too!
Katie and I walked along the Bosporous and chatted, working up our appetites until we got to Naga Putrika, aka the best breakfast in Istanbul. Turks know how to do breakfast it's no small affair. This cute restaurant is small and packed on weekend mornings so come before 10am. Everything is local and organic. It's beautifully prepared and served. It's also delicious!
From cheeses and kaymak (clotted cream) to sweet honey and sausages with some eggs and plenty of bread thrown in there was no shortage of options. Let's just say I ate it all and I am not ashamed of that. I still dream of it. For the best breakfast and a great place to enjoy a long conversation with a friend make this part of your plan.
We roamed the streets looking in little shops and watching weekend life in Istanbul go by. We ducked into old churches whenever we found an open door. This area has always been home to people from multiple faiths; Islam, Christianity and Judaism. There are both Greek and Armenian churches that still operate to a small population – many others were deserted after the fall of the Ottoman Empire. Kadikoy is also home to Turkey's largest food market near the Osman Aga Mosque but if you don't make it, don't worry. You'll find food shops everywhere. There's no shortage of small stores, coffee shops, and cultural venues – way more than we could visit in a day.
This area was quite run-down until the 1990's when it began to make a come back. Today artists and young people have taken back much of the area. Rent is still affordable (in some areas), and there's lots to do. At night many streets become overrun with Istanbul's night scene – one that rivals any European city.
We couldn't let the day completely slip away without dinner. So we stopped at Çibalikapı (they also have another location on the European side). The restaurant specializes in fish but they also have daily mezze options. So of course we did mezze. There's no menu, the waiter brings a tray that has the daily offerings and you choose as many as you want. All of them were good but my favorite was the one on the top left. It was barley in garlic olive oil with walnuts and pomegranate seeds. Simple but great!
Where to Stay in Kadikoy
If you decide you'd like to stay on the Asian side of Istanbul there are several hotel options in the area.
A boutique hotel with modern amenities and competitive rates. Includes an great breakfast buffet and a spa with a wide variety of treatments to choose from.
You can't beat the views from this modern hotel right on the Bosporous. The hotel features free WIFI, a roof terrace and an on-site Turkish hammam so that you can relax inside while exploring outside easily.
In the heart of the shopping district of Kadikoy, the Hilton has everything you expect from the brand. It's a 5 minute walk to the metro station and outlet mall.
Tour Suggestions in and around Kadikoy
Istanbul Asian Side: Uskudar and Kadikoy Small-Group Tour with Lunch
Visit markets and historical sites, take a boat ride and visit mosques and a bath house. Lunch is included with the tour in a traditional Turkish restaurant. The tour also uses public transportation giving you a great opportunity to learn how the train and boats work so that you can do it alone during your trip.[/vc_column_text][vc_btn title="Check Rates and Buy" color="danger" link="url:http%3A%2F%2Fshrsl.com%2F130hp||target:%20_blank|rel:nofollow"]Walking Tour for Foodies in Istanbul with Tastings
This tour starts on the European side with a hotel pickup in Taksim or Sultanahmet. Take the ferry to Kadikoy and begin the food immersion through markets and restaurants. There is a mixture of savory and sweet foods offered as well as different types of traditional drinks giving you an overview of Turkish cuisine while enjoying the Kadikoy area.[/vc_column_text][vc_btn title="Check Rates and Buy" color="danger" link="url:http%3A%2F%2Fshrsl.com%2F130hm||target:%20_blank|rel:nofollow"]
Besiktas and Beyoglu
These two neighborhoods are next to each other on the European side of the Bosporous. This is a small area of the city but contains several important historical sites and are largely a middle class neighborhoods.
In Bestikas there are several business and shopping areas as well as being the financial district of Istanbul. It has long been a busy part of the city. With very easy access to the Bosporous ferry that crosses to Kadikoy and lots of interesting sites to see it is a great neighborhood to consider staying in or visiting when you're in Istanbul.
In Beyoglu (also known by its Greek name of Pera) also encompasses the area of Galata. It is considered one of the most active art, entertainment and nightlife area of Istanbul. This part of the city was well settled by foreign residents for centuries and this can still be seen by the variety of religious buildings and trades that happen here. During the early and mid 20th century the area faced a huge downturn however in recent years it has been gentrified and become a destination again.
What to do is Besiktas
Dolmabahce Palace
After Topkapi this palace is one of the better known homes of the sultans of the Ottoman Empire. Similar to Topkapi the layout of the palace isn't one giant building but a series of buildings. Guided tours lead you through the palace to see the impressive architecture and learn the history of the building and time period.
Turkish Naval Museum
The history of the Ottoman Navy is on display at this museum. There are over 20,000 items on display some of which date to the Byzantine Empire.
Barbarossa's Mausoleum
Nearby the naval museum is the tomb of Barbarossa the great Ottoman naval commander who helped secure Ottoman control over Istanbul/Constantinople from the Byzantines. The inside of the tomb is only open on special occasions while the exterior is always visible.
Market District
If the Grand Bazaar isn't your thing head to the weekly market on Saturday's in Besiktas where the sites and sounds are devoid of tourist hordes. Primarily a food market on the main floor with other trinkets and everyday goods to be found upstairs it's a fun way to explore daily life in this part of the city.
Breakfast Street
Yes, there's a street in Besiktas that is full of breakfast restaurants. Since there is nothing better than a Turkish breakfast you will want to add this to your must-do list. There are loads of cafes on the street that serve breakfast (many all day) and they are open every day of the week, no need to just have a weekend brunch here! Plug "Beşiktaş Çelebioğlu Street" into your Google Maps and be on your way!
What to do in Beyoglu
Galata Tower
Climb this medieval tower to get an expansive view over the city of Istanbul. You can also enjoy a meal from the tower as it is a bar and restaurant with an amazing sunset view.
Istanbul Museum of Modern Art
Turkeys' first modern art museum has only existed since 2004 but features both international and Turkish pieces of art. They also offer workshops regularly so it's worth looking ahead to see what may be offered when you're in the city.
Antique Hunting
There are dozens of little antique shops all over this neighborhood making it prime picking for anyone that is interested in finding unique pieces to bring home.
The Museum of Innocence
If you've read [easyazon_link identifier="B00A2M1XKM" locale="US" nw="y" nf="y" tag="maro0a-20″ cart="n"]Orhan Pamuk's novel by the same name[/easyazon_link] then you may be wondering if it's the same thing described in the book. It is. The museum is inside a 19th century home and the artifacts highlight upper class life in Turkey of that time period. If you haven't read the novel, you should before you go.
Taksim Square
Famous of late due as it was the kicking off point of protests in Turkey during the Arab Spring but things have calmed down since this time. It's largely a shopping area with cafes and street musicians.
Istiklal Street
This is a major thoroughfare lined with shops and restaurants. It also has some interesting things off on the side streets to see. The Flower Passage, Fish Market, and several different churches including Greek Orthodox, Armenian, and Roman Catholic. Walking the street you'll see architecture that dates from multiple different time periods – proving it really is a walk through history.
Where to Eat in Besiktas/Beyoglu
Sinop Manti
One of the foods you have to eat in Istanbul is manti. These are bite sized raviolis filled with meat. The "sauce" is yogurt that often has chili or other flavors infused. They have other things here too but seriously just get the manti and thank me later.
Cafeterias
I can't tell you the name for these but you will see them all over and I ate at a few in Besiktas that were great. Typically these are restaurants where only Turks are eating. The concept is just like school lunch, go in choose what you want, go to the cashier and pay. It's simple food and quite traditional but every time I've tried it's been really good!
Where to Stay in Besiktas/Beyoglu
Swissotel The Bosporous Istanbul
A five-star luxury hotel right on the Bosporous with a price point that won't make your wallet hurt. Enjoy the swimming pool, spa and green space as well as great dining options if you'd rather eat in instead of going out.
This hotel offers the convenience of a short walk to the attractions in the area including Taksim Square and Dolmabahce Palace. The tram station is also nearby making it accessible if you plan to use public transportation.
A historic, luxury hotel that will take you back to the grandiose times of Istanbul. Enjoy their Turkish hammam, tea lounge and visit the Ataturk Museum Room where the once leader of Turkey stayed many times.
Tour Suggestions in and around Besiktas/Beyoglu
[vc_row][vc_column width="1/2″][vc_column_text]Dolmabahce Palace and Bosphorus Sightseeing Cruise with Küçüksu Palace
Enjoy a four hour tour plus an additional hour boat cruise on the Bosporous. The guided tour of Dolmabahce brings the site and it's history to life while the boat trip allows you to see several other historical sites along the water.[/vc_column_text][vc_btn title="Check Rates and Buy" color="danger" link="url:http%3A%2F%2Fshrsl.com%2F130i2||target:%20_blank|rel:nofollow"][/vc_column][vc_column width="1/2″][vc_column_text]Modern Art Tour of Istanbul: Istiklal Street, SALT Galata and Istanbul Modern Art Museum
Led by an art expert you'll discover the modern art side of the city by visiting galleries and learning about the modern art movement in Turkey along the way. The tour group is limited to 15 so you can have more intimate experience.[/vc_column_text][vc_btn title="Check Rates and Buy" color="danger" link="url:http%3A%2F%2Fshrsl.com%2F130i8||target:%20_blank|rel:nofollow"][/vc_column][/vc_row]
Two Istanbul Food Tours To Try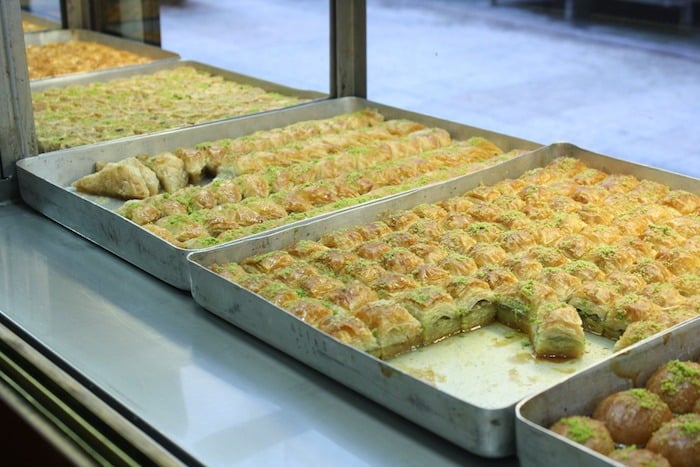 Culinary Backstreets Two Markets, Two Continents Tour
This is the longest food tour I've taken, and quite possibly the best.It has a tour length of 6 1/2 hours. Yes my friends that's over 6 hours of walking and eating. I know to some it sounds like overwhelm but to me, someone who can think of nothing better than spending an entire day learning about a city and eating the best food in Istanbul this was a thing of dreams. It also lived up to every expectation I had. Finding the best food in Istanbul is not easy. Not because there's a lack of good food but because there's so much! I'm convinced that anyone who says they didn't eat well in Istanbul simply didn't try.
We started the tour early at 9:30am and set out to uncover a tea shop hidden away in one of the old workshops. Here our guide brought us a typical Turkish breakfast of smit (the bread with sesame seeds), a white cheese and herbs preserved in olive oil. Simple, refreshing and delicious.
But then the ante was upped and we ventured just off the Galatasaray Bridge to a restaurant that was completely non-descript from the outside. Little did we know inside we would find a family who has made breakfast their mission for decades. They are so dedicated to what they do they not only have the restaurant but produce much of the food on offer. They make kaymak from buffalo milk as well as buffalo sausages and cured meats. It was here I learned what Turkish breakfast was all about.
This was only the beginning of what would be much, much more. From breakfast we jumped on the ferry to Kadikoy. We sipped Turkish coffees and salep while learning about the important role it plays in Turkish culture. One thing I've learned on my travels is that countries like to claim certain things. For example I couldn't help but remember drinking Turkish coffee in Bulgaria where they too claim it as part of their own culture. We visited a Greek Orthodox church and wandered through the busy market where there were so many foods on offer.
We settled down at a delicatessen to try a mixed variety of mezze including fried anchovies and a whole host of vegetable based dishes. In the pickled shop we of course had pickles but also turnip juice and a wide range of other pickled goodies. Who knew that was a thing in Turkey? We nibbled on nuts and dried fruits and then it was time for lunch.
You might not believe me but there really was much more food than this! There were several other stops where we had a bite of this or that. The last two stops included a "nightlife" specialty and some more traditional Turkish dishes that are going a bit out of style. By the time we boarded the ferry to go back to our hotel we were quite full but very happy.
I don't want to give away all of the food and surprises that you'll discover on this tour and know they do offer shorter tours if spending the day eating is not as appealing to you as it is to me! Our guide was excellent, the food was top notch and we saw a lot of the city along the way. While you will see the price is a bit on the higher side it includes everything (all the food) and the guide. I think it's a steal!
Context Tours – Beyond Baklava
If you're unfamiliar with Context they provide tours in dozens of cities around the world with different themes – I've rarely found the range of options they have – all led by docents and professionals who really know what they're talking about.
So, when we met our guide the morning of our second day in Istanbul, I couldn't wait to see what desserts would come our way. One of the added benefits for this tour was that we all knew each other so there wasn't any of the sometimes awkwardness that happens on a group tour. We were laughing from the first bite.
I know what you're thinking, how many desserts can there possibly be? I think this is a good time to stop and reflect on which desserts would you choose to represent your own culture? I was thinking about it a lot during our time eating and walking.
Could I even put together enough dessert options – in Turkey there is! This wasn't all about the food, we learned a lot about food and sweets in Turkey as well as the places we were passing and the history of the city. Istanbul was a melting pot before the United States even existed. It's one of the most interesting parts of the cities history. But that isn't to say it was all unicorns and rainbows. No, quite the opposite. There's also a dark and very brutal side to Turkish history.
I won't name all of the places we stopped – you'll have to check out the tour when you're in Istanbul but feast your eyes on what you can expect.
Lokum & Asure
Istanbul's equivalent of a high street is dotted with hundreds of shops – including many for turkish delight or lokum. There are plenty of traditional flavors. I am completely addicted to it and I'm sure it won't take you long to feel the same way. The texture is unique but as we learned, good Turkish delight doesn't burn your throat or stick in your teeth.
You'll also quickly discover most cups of Turkish coffee are delivered with a piece or two of lokum.
We tried both the traditional version of lokum and stopped at a more specialty coffee shop that had lokum you could personalize. There is both a jelly version and milky version. We were able to choose what flavors we wanted inside. I chose nutella, hazelnuts and pomegrantes. We also had one with rose and pistachio. This shop is one of my favorite treats and I beelined for it on my second trip to Istanbul.
Asure on the other hand wasn't the sweet dessert I was expecting. It's also known as Noah's Ark Pudding but I really didn't think of it as a pudding either. This is one of the very few Turkish desserts with no animal products (it's naturally vegan). The base is a thick porridge and the rest is dependent on the family and region. It can have ingredients such as wheat, rice, sugar, nuts, dried fruits, beans and chickpeas and be flavored things like lemon and orange peel.
Coffee
Turks take coffee seriously. There's no sissy coffee here, it's dark, thick, and full strength. You can order it sweetened or unsweetened (I suggest the later) and it's better to order it that way than to try and sweeten it on your own. You'll understand why after you get your first cup. I really like it but can see how others don't view it as affectionately. Afterwards if you're with a local she may be able to tell your fortune in the cup. Any guesses what's coming my way?
Baklava with Cream
There is one shop in Istanbul that is THE best known for baklava, but also has many different types of dessert including Turkish ice cream. The baklava is, to put it mildly, a treat. We had ours topped with cream and while it's certainly rich, I dare you to stop at just one piece – you can't! We later went back and also tried ice cream here. It's really unique as it is made with a special local syrup that gives it a texture I've never experienced in ice cream. MarocBaba liked it but the texture was just too different for me.
Tavuk Gogusu
The final stop on our tour was something I had heard about when I first started looking at food in Turkey. This is a very unique dish that was created during Ottoman times. It's exactly the type of dish they were best known for. It comes in two versions; caramelized and regular. The texture initially is like flan, maybe slightly firmer but there's a stringy texture to it. The taste is sweet and while you're trying to figure out what it is you realize you can't place it.
I'll help – it's chicken breast. Yes, a pudding made with chicken. It tastes nothing like chicken and if no one told you, you probably would never guess. The meat is cooked an incredibly long time until just the threads are left and then cooked into the pudding.
If you love dessert and you're in Istanbul I recommend checking out this tour. It's really unique and a great way to learn about this side of Turkish cuisine and history.
Find and book this tour and many others from Context Tours.
[/vc_column_text][/vc_column][/vc_row]
What to Pack for Istanbul
There's no dress code in Turkey and you will see a really wide range of styles and clothing. While Turkey is an Islamic country, Istanbul is a modern city so don't worry too much about covering up (or not). You likely will need to be more aware of what you pack depending on the time of year you are visiting.
A few items that I would suggest bringing;
a raincoat in the fall or spring – I travel with this [easyazon_link identifier="B01GQUWAPU" locale="US" tag="maro0a-20″]NorthFace raincoat[/easyazon_link] everywhere and it's great.
Waterproof shoes during the rainy season.
a warm jacket if you'll be visiting in winter – it does get cold!
a scarf that can double as a wrap and headscarf if you enter a mosque – [easyazon_link identifier="B01LZWPZ84″ locale="US" tag="maro0a-20″]like this one[/easyazon_link]
a cross-body bag to carry your belongings.
Good walking shoes. Istanbul is not flat so you may be climbing hills!
[/vc_column_text][/vc_column][/vc_row]
Day Trips from Istanbul
There are many different parts of Turkey that are accessible on day trips or two day trips from Istanbul making it really convenient to use the city as your base and explore. I'm sharing three destinations that are worth visiting if you'll be in the area.
Cappadocia In One Day Small-Group Tour from Istanbul: Rose Valley, Ortahisar, Kaymakli Underground City and Pigeon Valley
Yes, you can visit Cappadocia in one, long day. This trip includes flights from Istanbul to Cappadocia where you will explore the caves and learn about the aptly named rose valley. The tour also stops in Ortahisar where you can see the homes and churches and then wander the tunnels of Kaymakli Underground City where Christians once hid from persecution. Lunch, flights, admissions, and transfers are all included in the tour price.[/vc_column_text][vc_btn title="Get Prices and Book" color="danger" link="url:http%3A%2F%2Fshrsl.com%2F130ix||target:%20_blank|rel:nofollow"Troy Daytrip from Istanbul
If you love history and Greek mythology than this may be the perfect daytrip for you. Pickup is from your hotel where you then drive to the city of Eceabet. During the drive there is a stop for breakfast (your expense) or eat before your departure. In Eceabet a seafood lunch is provided before getting on the ferry that will take you Canakkale and the ruins of Troy. Your guide will bring the story of Troy to life in a one hour walking tour. It is worth noting much of this trip is driving to and from the site.[/vc_column_text][vc_btn title="Get Prices and Book" color="danger" link="url:http%3A%2F%2Fshrsl.com%2F130j0||target:%20_blank|rel:nofollow"][/vc_column][vc_column width="1/3″][vc_column_text]Gallipoli Day Trip from Istanbul
If you are familiar with this infamous WWI battle or not this trip will bring the story and the battle to life. Drive from Istanbul to Gallipoli where you will visit several of the different battlefields and memorials of Australian, New Zealand, and Turkish forces. Afterwards lunch is included as well as passing by a few additional sites by vehicle before heading back to Istanbul. This trip also will take a full day with quite a bit of riding and may be less interesting for young children.[/vc_column_text][vc_btn title="Get Prices and Book" color="danger" link="url:http%3A%2F%2Fshrsl.com%2F130jk||target:%20_blank|rel:nofollow"]