Why You Should Visit Tunisia Right Now!
When you think of getting away do you want to experience any of these things?
beautiful beaches

vibrant city life

historical sites

amazing food

a unique art scene

beautiful places to relax and rejuvenate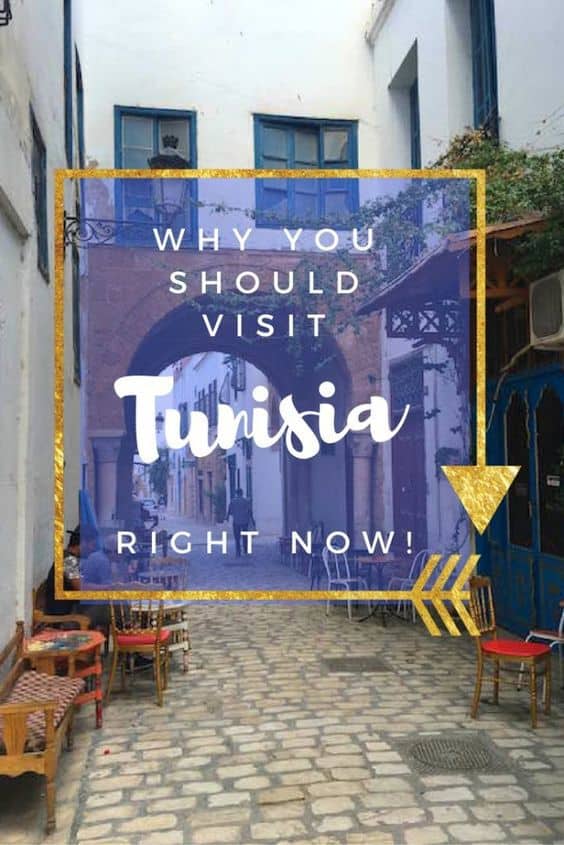 If you answered yes to any of these then you need to visit Tunisia right now. I'm not just saying that either! After my last visit I'm more certain than ever that this is a fantastic country to visit.
Here's why;
1) It's Safe – It Really, Really Is!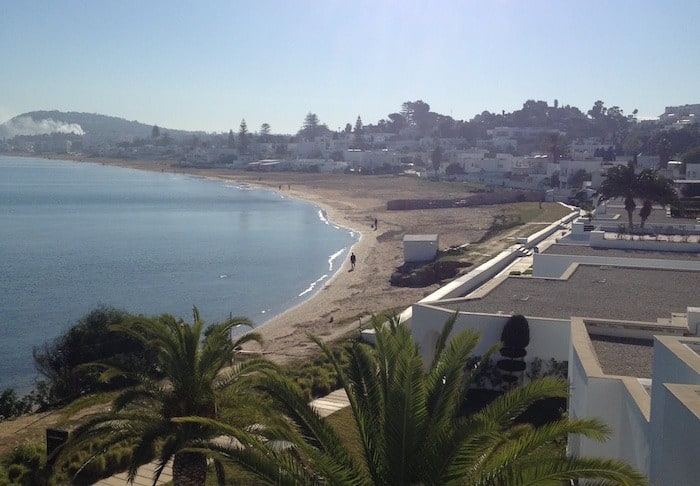 Tell someone you're going to travel to Tunisia and you're likely going to be met with questions, the first of which is "but, it's not safe there is it?" There's a lot of fear in the world about Tunisia but let's be honest. How many people aren't visiting Paris after the terrorist attacks there? The numbers may have slightly declined however by in large tourism rebounded almost immediately.
In Tunisia?
Not the case.
They're struggling not because it truly is unsafe but because that's the perception. I'm a big believer that if something bad will happen, it will happen anywhere. You could just as easily fall victim to an earthquake in Tuscany or a car accident in San Diego as you could to a terrorist attack anywhere (including Tunisia) in the world. I've been to Tunisia three times in the last 12 months and never once did I feel unsafe, for even a second.
2) It's Cheap
Due to tourism being in the basement, there are crazy deals to be had. Four and five star hotels for under $100 a night (and sometimes much less than that), affordable food and shopping – there's a bargain everywhere. I would never advocate for taking advantage of someone's bad luck however, visiting today, even at lower prices, will help the devastated Tunisian tourism industry. Tunisia today reminds me a lot of Morocco the first time I visited in 2004 and I mean that in the best way possible.
3) The People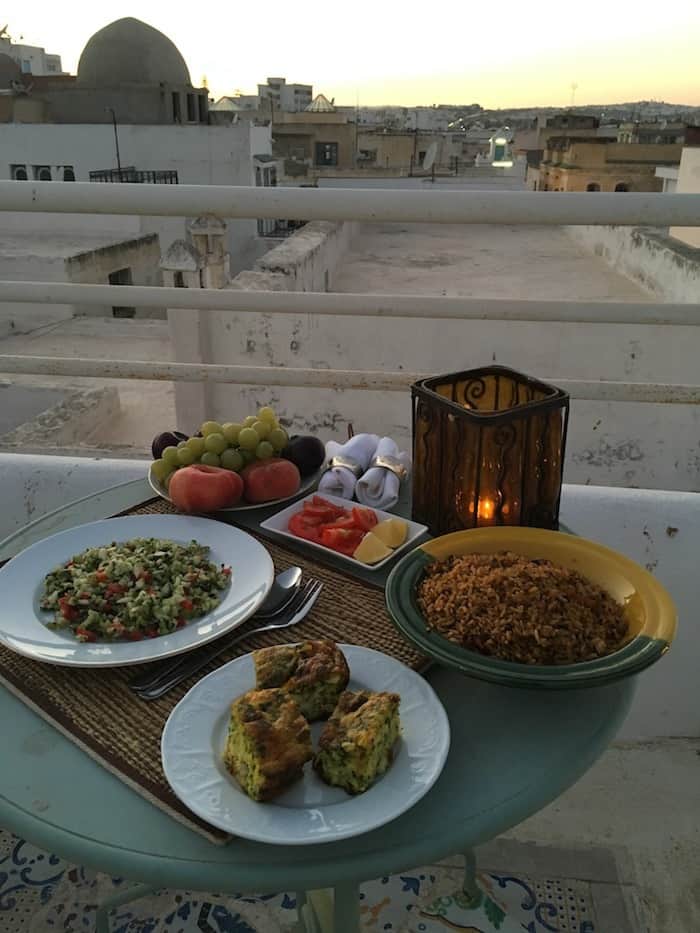 I will admit it probably is helpful that I speak some Arabic and I understand the local culture but I've found Tunisian people so warm and welcoming. They are genuinely, genuinely happy to see you. They want to know where you're from, and want to share their country with you. People went out of their way over and over again during my time in the country.
When I asked if someone from the guest house I was staying could prepare a local dinner one night they obliged immediately. Not only was an AMAZING meal prepared but they took the time to se a place for me on the rooftop and time it so that I could enjoy the meal with the sunset and adhan. It is one of my most memorable travel experiences and that's in big part due to the care that the people showed me.
4) Beautiful Places to Stay
From hotels to homes that have been refurbished to serve as bed and breakfasts there is no shortage of beautiful spaces. During my last trip I stayed at Dar Ben Gacem in the medina and was thrilled with my stay. Similar to a Moroccan riad but designed and laid out slightly different these homes are truly a glimpse into traditional Tunisian life. Not only this but there was no request too small or large. I arranged a transfer from the airport and he was there waiting and brought me to the front door. I requested dinner one night and was treated to several traditional foods served on the gorgeous rooftop. It was fantastic!
5) Insane Beaches
When I was in Hammamet (a city that is known as the tourist center of Tunisia) I was blown away by the beaches. If you think the beaches on the Amalfi coast or Greek Islands are amazing then come to the beaches of Tunisia. They're equally beautiful, the water crystal clear and there's hardly anyone taking up spaces. Forget about fighting for an umbrella with the Italians and stake your claim here instead. Worried about safety? Tunisia has police regularly patrolling beachfronts.
6) A Rich, Diverse History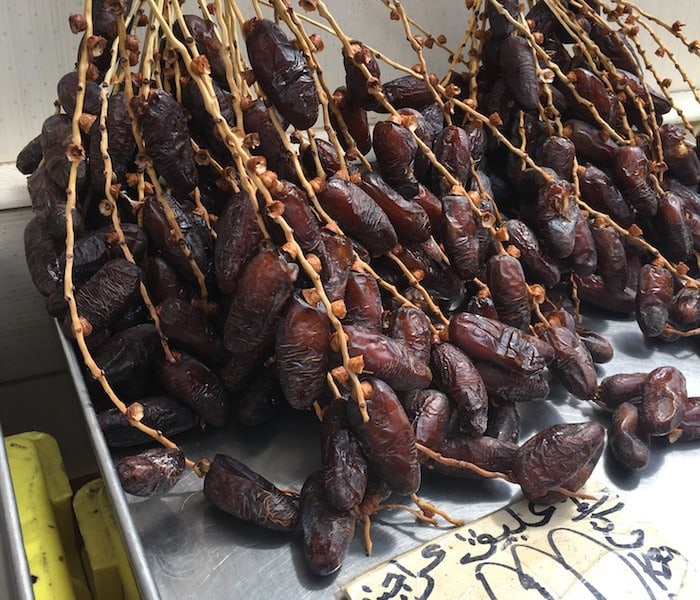 Not many people know about the history of North Africa. I'd wager to guess that it would be a challenge for many to label the countries that make up the northern border of the continent let alone distinguishing characteristics of each. Tunisia flew to the covers of newspapers around the world as it touched off the Arab Spring in 2011.
Newscasters scrambled to pull together facts about this country. I say this not to make anyone feel bad but simply to reiterate how little the rest of the world knows about this country. Tunisia has been conquered and controlled by dynasty after dynasty however at the core they are Berbers (Amazigh) – the original peoples of North Africa. With all of this mixing a unique culture has developed. That in and of itself is worth exploring.
7) It's Beautiful!
You know those places that you uncover completely by accident and think "how come no one else knows about this place?" That's exactly how I felt walking down the medina streets of Tunis. There wasn't another tourist in sight and I couldn't understand why. While the amenities of modern life are easily found, there's also a very real sense that maybe things haven't completely modernized. That some people are holding onto traditions and their ways of life. On the night I was enjoying my dinner on the rooftop, the adhan (call to prayer) started as soon as I walked up the staircase. In front of me the sun was setting behind the city while every minaret was calling out. It was surreal.
If you want to get outside of Tunis there are lots of adventures that are waiting to be discovered.
8) The Eats
Sure Tunisia doesn't have the culinary resume that France or Italy has. It's not even up there with Moroccan or Israeli but maybe it should be. Tunisia's diversity, natural resources and unique geographic regions make for a very interesting food palate. No, Tunisia is not all about harissa. From the Sahara to the Mediterranean islands you'll find a mix of foods foraged from the lands, fished from the seas and brought from traders passing through. Come and eat!
How to Get There
From Morocco Royal Air Maroc and Tunisair make regular flights from Casablanca to Tunis.
Many carriers fly from Europe to Tunis as well as the islands and other smaller Tunisian cities.
From the US Tunisair flies from Washington DC on a regular basis.