Planning a Great Family Holiday in Dubai
Dubai, the second largest and the most popular emirate in the UAE, is a wonderful place for all types of holidays. With a sheer scale of things to do and see, it goes without saying that Dubai makes an exciting spot for family getaways as well. Are you getting ready for an amazing break in Dubai with your family, this post has some handy tips and information that allow you to make the most of your vacation.
Top Reasons To Visit Dubai With Family
Multicultural Setting: Dubai is an amicable destination and a true melting pot of culture. Needless to say, it welcomes and makes people of all age groups and preferences feel at home.
Incomparable Repertoire of Attractions: Things to see and experience in Dubai are just more than its architectural gems and engineering marvels. There are a whole lot of attractions that effortlessly mix entertainment and learning in a fun-filled ambiance, making it a favorite of kids and grownups alike.
Amusement and Thrill Options Like No Other: Dubai is probably the Middle East's ultimate spot to unleash your crazy or wild side. From the most unique and innovative theme park attractions to the most action-packed desert safari tours, a holiday in Dubai is a dream come true moment for adventurists and leisure seekers.
Important Things To Know For Your Family Trip to Dubai
Best Time to Visit
Whenever you travel to Dubai, the place is rife with striking events and experiences. It, therefore, doesn't matter if you consider visiting the place in the summer or winter months. If you wish to be part of pleasant cool weather and heaps of exuberant events and seasonal attractions, the winter season (November to March) is the best time for your Dubai trip.
That said, summer (June to August) is the ideal time to visit Dubai if you are looking for a cost-effective holiday. Don't expect to indulge in any kind of outdoor fun in these months as the place will be intolerably hot. But, the region's many indoor attractions ensure that you will have a super chill holiday.
Travel Requirements for Dubai
If you are not eligible for any kind of visa exclusions, you must obtain a valid Dubai tourist visa for your entry into the emirate or the UAE. This is applicable to all members of your family including kids. You must also get all other travel requirements right, mainly OTB or Ok to Board (which is mandatory for visitors from South Asian countries.) Along with this, make sure that you comply with the region's COVID-19 protocols.
Accommodation
Dubai is a family-friendly destination means you will find plenty of accommodations for a memorable stay with your loved ones. The best thing is that they come in every budget. For an absolutely lavish stay, there are choices such as Atlantis, The Palm, Rixos The Palm Dubai, Rove at the Park, and Caesars Palace Dubai Bluewaters.
Getting Around
Dubai has one of the world's most reliable and top-notch public transport systems in the world. There is the fastest of its kind Dubai Metro, incredibly spacious public buses and amazing ferries to get around in Dubai. They are spotless, less crowded and affordable too. Use a smart NOL card and top it up on the go to conveniently make payment for all these transport means. Now if you don't want to waste your limited time in Dubai, you can book a private transfer or even opt to hire a vehicle and drive around the city. But, you will need a valid international driving license in this case.
Best Things To See And Do In Dubai With Family
Burj Khalifa
Downtown Dubai is the heart of modern Dubai and one of its main attractions is Burj Khalifa. It is the world's tallest building at an astonishing altitude of 828 meters. Want to glance into the interiors of this gigantic structure? Sign up for a dining session or head up to its observation decks on 124th and 148th levels.
It comes with one of the region's fastest elevator rides and further welcomes you to the most unparalleled views over Dubai's skyline, cityscape, ocean, and desert. Your Burj Khalifa tour also includes a set of interesting multimedia presentation on the journey of Dubai from a sleepy fishing village to a high-tech global city.
The Dubai Mall
A family trip in Dubai is not complete until you visit this colossal mall. It has something to cater to every whim and imagination, thanks to its 1200 plus retail outlets, more than 200 food venues and a vast array of leisure and entertainment choices.
Art lovers can check out Infinity des Lumières in Dubai – the Middle East's first digital art gallery, while marine enthusiasts are in for a treat at the mall, with Dubai Aquarium and Underwater Zoo. Let your kids enjoy financial freedom as they indulge in their favorite adult profession at KidZania Dubai. Joined by teens or simply looking to get active? The mall has extraordinary attractions by way of VR Park Dubai, Ekart Zabeel, and Dubai Ice Rink.
The Green Planet Dubai
This is one of the most amazing places in Dubai to visit with family and kids. Located at the City Walk, it is the first indoor tropical rainforest in the country. With a huge, largest-of-its-kind man-made tree in the middle of the facility, it shelters over 3000 species of fascinating flora and fauna. You also get to participate in many immersive and interactive activities like Sugar Glider Encounter, Snorkel with Piranhas, Sloth Encounter and Bird Encounter.
Desert Safari
Be it to see Dubai's pristine side or experience the thrill of the lifetime, the region's desert landscape should definitely be on your bucketlist. Take a guided desert safari arranged by service providers like Rayna Tours to experience the beauty and quietude of the Arabian Desert at its best. The rest is assured you will have some quality and fun-packed moments with your family and kids in a marvelous setting amidst the seas of sand dunes.
You can choose from morning or evening desert safari; one of the major draws of any desert safari is 4X4 dune bash. Add to this a wide spectrum of cultural activities like camel ride, Shisha smoking, henna tattooing and falconry, plus BBQ dining and traditional entertainment shows.
Ain Dubai
This is another must-experience attraction on your trip to Dubai with family. It is one of Dubai's latest attractions and is one-of-its-kind, being the world's largest and highest observation wheel. A revolution in one of its enclosed and air-conditioned capsules escalates you to a height of about 250 meters, allowing you to witness Dubai's coastline and attractions across Bluewaters Island, Palm Jumeirah, Jumeirah Beach Residence, and Dubai Marina from a sky-bound standpoint.
Museum of the Future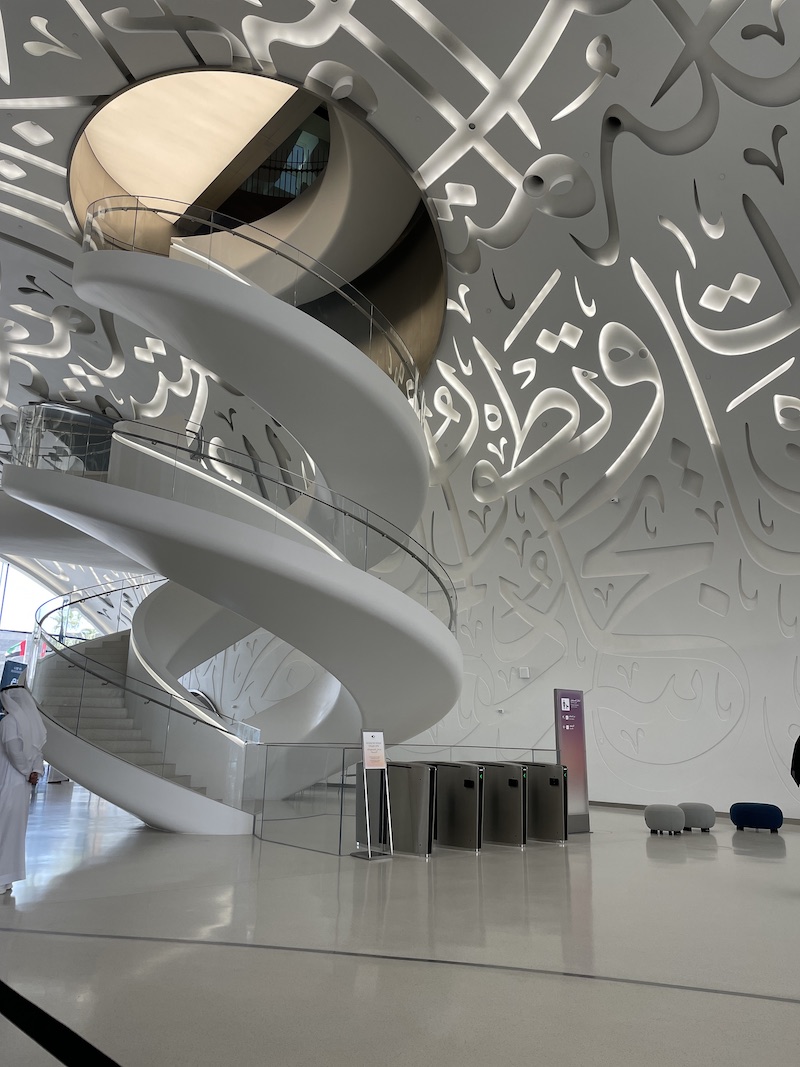 While most museums transport you to the ancient era, this museum takes you to the future. The first thing that grabs your attention is its ground-breaking architecture that appears like a huge silver oblong ring with a hollow portion in its middle section. Not to mention about its galleries with top-end exhibits that showcase the high-tech future technologies. Discover the new world, take in the splendors of nature, and see the world from a new perspective as you immerse yourself in the museum's jaw-dropping displays.
The View at the Palm
This is another brand-new attraction that you must add on your family vacation in Dubai. This is an observation deck on the 52nd level of Palm Tower and is exclusively created to give you a comprehensive view of the legendary palm-tree-shaped man-made island of Palm Jumeirah.
Dhow Cruise
Want to have a relaxed moment amidst all buzz of the city? Nothing could probably beat a dhow cruise along Dubai's exuberant waters. A dhow is a traditional sailing vessel that was once used for the region's primary occupations like fishing and pearl farming. They now serve as a floating restaurant and doubles up as a laid-back venue to admire the magnificent city views with buffet dining and live traditional performances onboard.
Dubai Parks and Resorts
This is one of the absolute attractions for theme park buffs traveling to Dubai. It is an integrated resort, which is first of its kind in the Middle East. Apart from several accommodation choices and an exclusive retail and dining area, the resort has four parks that let you take to a whole lot of Hollywood and Bollywood-inspired rides.
These include Motiongate Dubai, Bollywood Parks Dubai, LEGOLAND Dubai, and LEGOLAND Water Park. Choose the right ticket that offers entry into all of its parks or one or two of your favorites here.
Ski Dubai
No matter how many times you visit, there are certain attractions that you would never get enough of it in Dubai. Ski Dubai in Mall of the Emirates is one of them. It is a snow-inspired theme park with the coolest of its rides, experiences, and activities. Being completely indoors allows you to enjoy skiing, sledding, snowboarding, etc year-round. Imagine throwing snow in the Arabian Desert during the blistering hot months! It is an indescribable experience; so just don't miss out on a visit here with your family and little ones.
Traveling with families and kids may not be everyone's cup of tea. But, Dubai's blend of family-friendly hotels, all-age attractions, and kid-exclusive sections at theme parks make it a breeze for you. Moreover, whether you travel to Dubai in summer or winter months, you will never feel bored as the best of attractions and experiences await you here in every season.
More Dubai Posts to Plan Your Trip
The ONE Thing You Must Do On Your Trip to Dubai