What to Do in Egypt When You LOVE Food!
Egypt is known for its historical sites and history that dates back thousands of years. People are drawn to visit to see the pyramids and experience this ancient culture. But, for some, the draw is food. I am one of those people! My adventures throughout the world focus on great meals and more importantly eating where locals go. So if you're wondering what to eat in Egypt, you've come to the right place.
Planning what to do in Egypt means lots of choices when it comes to a food-focused vacation. Sadly, many tourists get scared away by secondhand information and insist they must stick only to upscale hotel food. In my experiences around the world, this is one of the best ways to ensure you eat mediocre food.
I have rarely (never) had a meal at a hotel that was better than the food I have eaten on the street!
Top Questions About Visiting Egypt
Do you need a visa for Egypt?
As US passport holders we did need a visa for Egypt. This is available on arrival or in advance. We applied in advance as we also went when COVID restrictions were still in place. Because our flight arrived very early (6am) I was glad that we had the visa situation covered and didn't have to sort it out.
How Do I Get a SIM Card for Egypt?
This was far easier than I thought it would be. Right in the arrival terminals are desks where you can sign up and get an Egyptian SIM. It took a little bit of time (20 minutes maybe) but we were set for our entire stay and it wasn't very expensive. I think we paid around $10 for 5GB of data.
Another option is Airalo which lets you load an eSIM on your phone. I have used this in two different countries now and it's been great. They also have an Egypt plan and you can easily top up your credits from the app or website if you're running low.
Do I Need Vaccines for Egypt?
Egypt no longer requires a COVID vaccine however you should consult their list of suggested vaccinations based on where you will be arriving some. I am not a healthcare professional but I always suggest Hepatitis A for travelers in this part of the world.
Is Egypt Safe for Women?
This is a very broad question and I can say that in our short time here I never felt unsafe. I also never had any lewd comments made. I also was with two teenage boys that are larger than me, dress as a Muslim woman, and were with a guide most of the time. I have no doubt that if I appeared differently I might have faced more harassment.
Cairo is a very large city much like any large city anywhere in the world. It should be expected that you will face many of the same challenges and potential crime situations you would anywhere.
How Do I Exchange Money in Egypt?
There are ATM's that can be used in Egypt (let your bank know in advance). I brought a mixture of cash to exchange and used my credit or ATM card where applicable. There was no specific reason I brought cash except that I had US dollars and didn't want to be in a situation where I couldn't use my card.
Exchanging cash in Egypt is actually a little more complicated then I realized. We went to a cash exchange spot in Zamalek and it was a bit of a process of recording our passports, our Egyptian phone numbers – not sure what happens if you have no Egyptian SIM – and then getting the money back. It was pretty involved and very unlike Morocco where it's a very simple exchange. Overall not hard just be ready for a process.
Visiting Egypt as an American Citizen
One thing that we learned on our second day was that if you work with a travel agency they must register your name with the authorities. This is not uncommon, it happens in Morocco too, but I didn't realize this. So on the day we went to Alexandria we were accompanied by an Egyptian plainclothes police officer. Then when we went to Fayoum, we were stopped about 20km outside the oasis and a police convoy escorted our vehicle and a few others the rest of the way.
What I learned was that this is an extra security procedure given to tourists from certain countries like the United States, Russia, and Israel. We really didn't have a choice if they would come with though I suppose I could have protested and they didn't charge us anything. It's just something to be aware of that may happen.
Where to Stay in Cairo
We chose to stay in the neighborhood of Zamalek at the President Hotel. It's a mid-range hotel that served our purposes. It was clean and the service was good. There are also plenty of five-star options in this neighborhood and other areas of Cairo. Overall I highly suggest this area. It felt really comfortable to us. I went out at night alone to meet friends or just to pick up things from the shops and was not hassled at all.
If you want to stay in this area, I highly recommend it. The booking box below will give you some options.
If you're interested in The President you can find rates and availability by choosing it specifically below. One thing I did like was that they had a triple room available so me and the boys were all able to stay together in the same room. This isn't so common to find. As you can see the rooms are simple but very clean and the water pressure was great in the shower!
5 Day Egypt Itinerary with Teenagers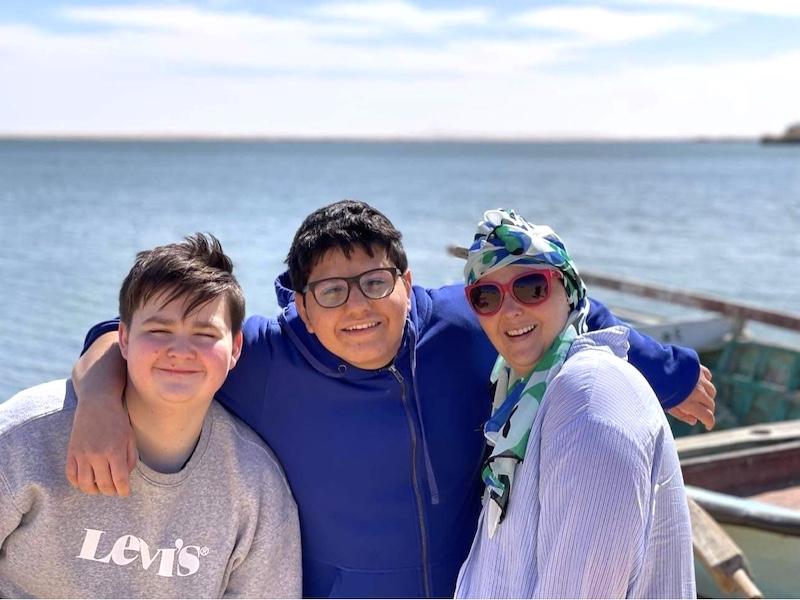 We had a short visit for this trip as we went during our kids' spring vacation. Cairo is about a 5-hour flight from Casablanca with direct flights offered on Royal Air Maroc and Egyptair. This was not particularly a low-cost flight but much cheaper to access from Morocco than from the United States.
We chose to keep Cairo as our base and included two day trips on our itinerary. One day in the Fayoum Oasis and one day in Alexandria. Truthfully, you could very easily just stay in Cairo and not take any day trips in this short of time.
My kids were 17 and 15 at the time we took this trip. We have traveled extensively and they speak Arabic fluently. They also live in a country that is somewhat similar to Egypt. I think it's important that I put this in the beginning to give some context for our experience.
My friend Kathi who also lives in Marrakech was with us too. One comment we both made was that Cairo was not as overwhelming as we thought HOWEVER if you were coming from North America for example, it would be a major change.
Day 1: Zamalek
Because our flight arrived very early in the morning we were able to secure an early check-in to the hotel. This meant we ate breakfast as soon as we arrived and then were able to take a nap until the early afternoon. Even if you have to pay for the hotel the night before, I think this is the best option, you never know how you'll feel getting off the plane.
The rest of the day our plan was to stay in the local neighborhood. There are a few things you can do besides wander the streets – which is an activity in and of itself!
The Marriott Hotel in Zamalek, part of it was a Royal Palace and a spot to walk through and perhaps have a drink in their restaurant.
Visit the Cairo Tower to see Cairo from above. It's possible to take an elevator to the top observation deck. There's also a rotating restaurant two floors below. I can't speak to the quality but it's something to consider if you're in the area.
Take a felucca boat trip at sunset from the dock across the street from the Four Seasons. This is something that you can also have booked in advance through your hotel or with a tour company.
We went to Desoky and Soda for a late lunch/early dinner and had some really delicious feteer, an Egyptian pancake/pastry/pizza (it's hard to label!) that can be sweet or savory. We all LOVED it!
Day 2: The Pyramids, Egyptian Museum and Food Tour
One misconception people have about Egypt is that there is one pyramid and that it is in the middle of nowhere. When in reality there are MANY pyramids. The Great Pyramid, the most famous is just outside Cairo. For this trip we had a guide with us and I would highly suggest taking this route.
This is the Great Pyramid of Egypt and I truthfully did not expect to be impressed. I know that that sounds horrible but what I've found in past travel experiences is that things that are "hyped" up tend to be disappointing. This really was amazing. For scale, my son in the front here is 6 feet tall. Most of the rocks were bigger than him.
There are three different pyramids in the complex and you can walk around them. You can enter the burial chamber if you want, for an extra charge. However, we decided not to do this. I'm a little bit claustrophobic and the boys both were a bit freaked out by it.
If you're considering it this YouTube video really shows you what the experience entering is like.
Nearby to the Pyramids is the Sphinx. It is not really within walking distance but is not incredibly far away. While the pyramids suprised me with how big they really are, the Sphinx was a lot smaller than I imagined. There was some restoration works happening so scaffolds were in place.
You can't get very close (and that's a good thing!) so this is something to view from a distance. Even though it was smaller than I imagined it was very cool to see!
The Egyptian Museum
We also visited the Egyptian Museum at Tahrir Square. This is the old museum and the new museum should be opening in 2023 (or 2024). The old museum still had quite a few artifacts and again it was good to have a guide with us to give context and explain everything.
Given its location on Tahrir Square this museum also has a lot of modern history. The Egyptian Revolution was centered here and as interesting as knowing the ancient history of Egypt, hearing the stories of the people in front of us who lived through or participated in the more recent revolution was even more meaningful to me.
Many of the tour guides and Egyptologists protected the museum and its contents during the days when it was really chaotic.
This musuem was very interesting to see – there are a LOT of mummies and most of them have been moved to the new museum. I think that if you have kids an hour or two is probably sufficient, and we were again glad to have a guide to give context and pick out the interesting things. If you're really into history you could very easily spend a day here.
But, we had another activity nearby.
Bellies En-Route Cairo Food Tour
I love food tours. If you know me, you'll also know I own a food tour company in Morocco so seeking out amazing tours around the world is the first thing I do. Several years ago the owners of Bellies En-Route reached out to me as they were just starting the company but we didn't have any immediate plans to visit Egypt.
You can imagine they were one of the first people I reached out to as soon as I bought our flights to Cairo.
On our second night in Cairo we scheduled this tour and it was fantastic! We ate some of the most delicious Egyptian food in places I wouldn't have been able to find. To me, this is a sign of a great tour. Even if many of the food we ate were common Egyptian foods (koshari/tamiya, etc) the spots we went to were really good.
I am very glad that we did this tour to not only eat great food but get a chance to wander around Cairo with a local person who could guide us, share stories from the city and most of all make sure we didn't get lost! In the end she also helped us get an Uber back to our hotel and that was a VERY helpful added service!
The downtown Cairo tour is quite long, you'll be participating for about 5 hours and do quite a bit of walking – however they do offer a shorter tour if you book their private option. I'll for sure be doing their Heliopolis tour next time I visit Egypt.
Day 3: Day Trip to Alexandria
We were trying to make the most of our time in Egypt and going to as many places as possible so we added on a day trip to Alexandria as a part of our itinerary. Alexandria is about a 2 hour and 30 minute drive from Cairo and we assumed there would be some things to see along the way. Truthfully there's not really.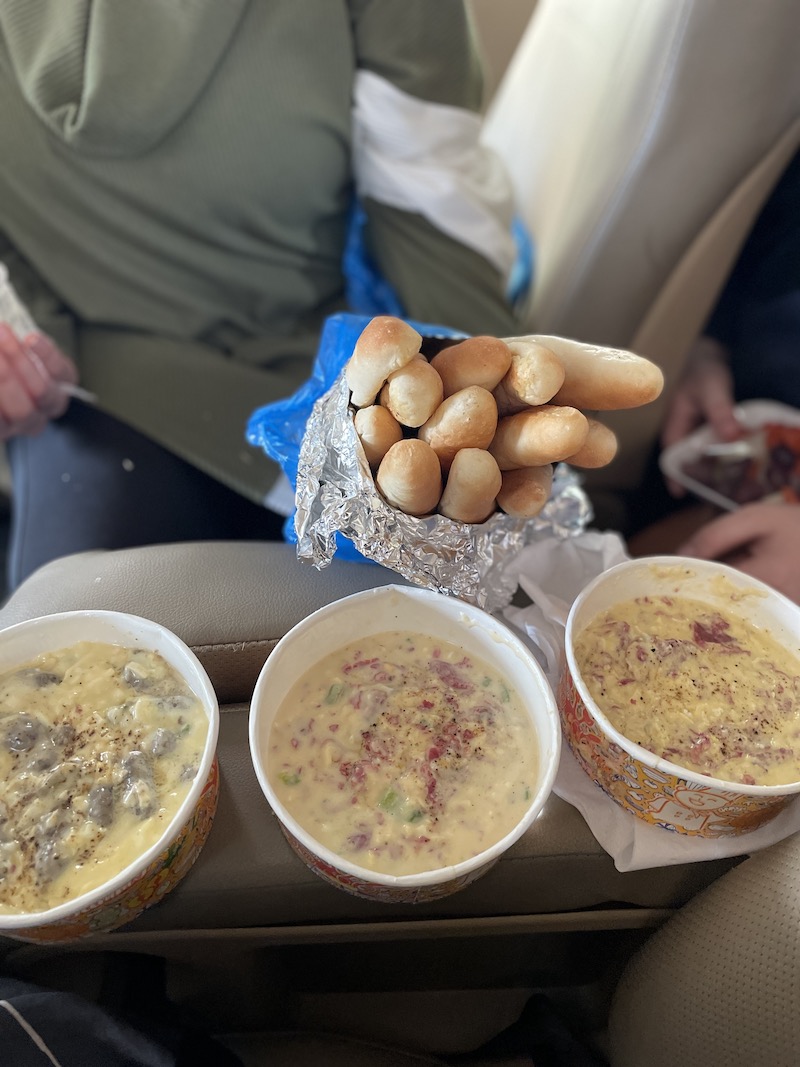 What I was most interested in here was visiting Alban Swissra where I was promised cheesy melted goodness for breakfast and it was delivered! The best way to describe this place is as a corner shop/bodega where food is also prepared. You can't sit here and eat, only do take away. Cheese, different kinds of meats, vegetables and eggs (sometimes) are scrambled together and eaten with breadsticks.
What is not to love?
We grabbed this and ate it in the car and it was one of the best memories I have from this trip.
Ancient Roman Amphitheater
These ruins were built in the 2nd Century AD and include a gigantic marble pillar that is impressive for its size and also that it is still standing. Many of the ancient artifacts found in Egypt have been taken by invading forces but this proved just too big to take. We visited with a guide and it was crucially important to bring the site to life.
Catacombs of Kom el Shoqafa
Normally catacombs aren't my thing but this was really cool to see. It consists of a series of Alexandrian tombs, statues, and archaeological objects of Pharaonic history, with Greek and Roman influences. I never realized how much these different time periods overlapped so seeing it all in one place was really eye opening.
Fort Qaitbey
This site brings us more into modern times as it dates from the 15th century. It was used until the 20th century when it was largely abandoned. In the middle of the 20th-century renovations began and today it's a historical site that can be visited.
Alexandria Library
This is the reason most people know of and want to visit Alexandria. The ancient library is long gone however the new library is beautiful. There are some guided tours but they might not be the most interesting as none of the ancient items remain.
Day 4: Day Trip to Fayoum
This day trip was our longest day. Fayoum is an oasis that on paper is 90 minutes from Cairo however getting through Cairo traffic can take much longer. We had breakfast at Zad el Mosafer and it was really fantastic. In Fayoum is the Tunis pottery village where locals create pottery artwork. We didn't have enough time to wander around but glimpsed from a short distance.
We rode into whale valley to see the skeletons (whales were found here)
Then we rode in the 4×4 through the Sahara to a tent where the boys climbed the dunes and sandboarded. We had a snack prepared with amazing tea at sunset which was really memorable.
In this area, there are some places serving fried duck or chicken that we had hoped to try but we ran out of time. Overall this was a fun, albeit long day.
Day 5: Islamic Cairo
Our final full day in Egypt was spent in Cairo visiting the historical and religious sites.
The Hanging Church
This is one of the oldest Coptic churches in Egypt dating to the 3rd century. In the 6th century much of the church was restored and much of the early history was erased through the renovation. The inside of the church has a combination of classic Christian iconography as well as elements of Islamic style through arches and tiling.
Mosque of Muhammad Ali
This mosque isn't exactly ancient but it was really beautiful. Unlike in Morocco where mosques are not open to non-Muslims, anyone may enter here. This is an Ottoman mosque built in the early 19th century. Besides its architecture there is plenty of symbolism is the design based on the politics and history of Cairo.
Al-Rifa'i Mosque
We also visited this mosque where the Shah of Iran and King Farook of Egypt are both buried. Their tombs are in the back area of the mosque. It is a lot more simplistic in style to the Mosque of Mohammed Ali but has its own charms.
Things to Eat in Egypt
I'm saving my favorite subject for last. We didn't eat a single bad meal in Cairo and even if something mediocre came my way, I could easily find something amazing within a few minutes.
I'll be compiling an additional post that goes through all of the things we ate and where we ate them.
There you have it! Our quick, off-the-cuff trip to Cairo with teenagers! My friend Kathi said she'd never been on a trip where we did so much, ate so many things, and also took naps. I think that's basically my traveling motto and feel it was successfully accomplished.
Planning Your Egypt Trip
This trip would not have been possible without the help of my friend Passainte who immediately jumped into action and helped me pull together this trip in under a week (I don't recommend anyone do this!) Her website and travel company Why Not Egypt? helps travlers discover Egypt a different way and I'm so grateful for her help.